A Style Guide on Camo Shorts
When it comes to men's clothing, nothing beats having a good pair of camo shorts to wear for any kind of season especially during spring and summer. This kind of outfit is one of the most sought after style when it comes to shorts that are commonly worn by men. And when it comes to these amazing camouflage shorts, there is a wide variety of styles and camo fabric and prints that people can choose from for whatever kind of camouflage shorts they feel like wearing.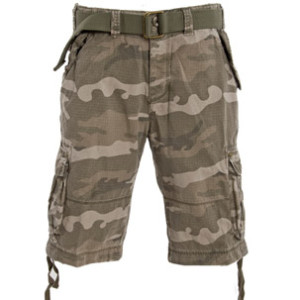 Today, there is already a plethora of clothing brands and manufacturers that add camo shorts to the list of short pants that they offer to men of all size and age. These clothing companies made it a commitment to provide their customers the best kind of camouflage short pants available. And because some men can be very particular when it comes to their kind of camouflage shorts, it is imperative that they have the best selection available that would provide them total comfort and functionality while not going out of the latest styles and trends.
A Little History about Camouflage Shorts
Camouflage clothing started in the military as part of their uniform in combat, allowing them to blend in the combat surroundings hence the term camouflage. These people from combat have somehow brought this practice of donning clothes with such design setting as a trend in the urban field. Camouflage printed fabric was warmly welcomed by city dwellers because of its sleekness, comfort and the extra protective feel. Nowadays, there are numerous camo patterns that have been used as a fabric of choice various types of short pants for men.
Instances Where Men Wear Camouflage Shorts
Generally, a lot of individuals from the male populace would wear their camo short pants wherever and whenever they can. Some people would wear this kind of shorts whenever they are at home doing some chores like mowing the lawn, doing some carpentry, gardening and even when playing with their beloved children. There are some places and activities however where the use of camo printed shorts would be most ideal. Some examples of these occasions are the following: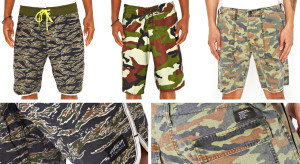 Hunting – For people who enjoy going outdoors and catching a game during hunting season, wearing shorts with camouflage pattern is one of the best outfit ideas one can ever have during these times. Wearing camouflage shorts along with a shirt of the same color pattern would allow hunters to blend with their surroundings increasing the chances of not being detected by their prized target. Wearing camo printed shorts when hunting also promotes safety to the person wearing it against predators that they can possibly encounter during hunting such as bears and other dangerous animals.
Fishing – Just like the ones that are worn during hunting, there are also shorts with camo patterns that would perfectly fit freshwater fishermen especially those who enjoy catching freshwater fish from the river bank. This allows the blending to the surrounding water system letting these game fishers to move close to the areas where catching of large freshwater fish is possible. Camouflage shorts designed for fishing can also be lined with special fabric to provide warmth and protection when worn in cold freshwater areas.
Hiking – Wearing camo shorts during hiking and camping in the woods provides comfort to the wearer while promoting safety and style at the same time. These types of camouflage printed shorts that are worn during trips to the wild outdoors can have several pockets in them perfect for placement of necessary materials and small items that would become useful later on in the trip. These shorts, though closely similar to urban camouflage short pants, can be a little bit more expensive as their urban counterparts. Nevertheless, a lot of people still prefer wearing standard outdoor camouflage shorts in the urban setting for convenience.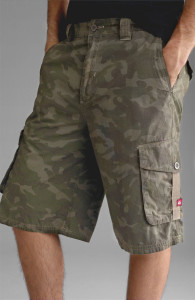 Different Camouflage Shorts
As stated above, mens camo shorts come in different styles that can be worn in different occasions and situations. However, there are a few instances where the use of a specific camo type shorts would be necessary. For those who want to know the appropriate camouflage shorts to wear in different situations, here are a couple of different styles that people can try on.
Cargo

 – Cargo shorts are famous for its ability to hold several items due to the multiple pockets placed all over the shorts itself. Adding a camo pattern to these shorts adds style to this type of short in particular. Camo cargo shorts are widely worn by a lot of men for the style, patriotism or for their culture. Cargo shorts with camo prints are also the kind of shorts that people going to the wild usually wear for convenience.

Board Shorts 

– These shorts in particular, are worn by people who frequently spend their leisure by the beach or any other body of water for recreation. Though there are other patterns of board shorts available in the market today, camo board shorts are still popular among surfers and people who go to beaches and lakes because of their unique style that suit perfectly well when worn in the waters. Board shorts with camo are also specially built to be lightweight to prevent dragging especially during engagement in water sports activities like surfing,snorkeling, skimboarding, water skiing, wakeboarding and windsurfing.

Chino Shorts

 -This considerably hit style for shorts gained popularity among teens especially those who live in warmer areas. Camo chino shorts shockingly have a wide variety of camouflage patterns and styles, and can complement any type of clothing a person may wear. Chino shorts with camo prints also look good not only when worn by men but when worn by the people from the opposite sex as well.

Camo Denim Shorts 

-This variety of shorts just proves the versatility of the shorts with the camouflage prints. Denim shorts can be mixed with the camo fabric to bring out camo denim shorts that is obviously as stylish as it is hip. Denim shorts with camo pockets or edges brings out a style that not everybody is well aware of and would surely bring out the person wearing it to the top of the fashion hill.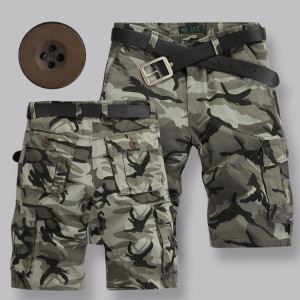 Mixing and Matching
Because of the different patterns of camouflage that have been produced through the years, it has paved the way for camo shorts to be mixed and matched with any kind of clothing no matter what color and design it may be. For example, desert sand camouflage shorts, may it be cargo, board or chino, go perfectly well with almost any color of shirt, especially the light colored ones.
Dark colored camouflage shorts, on the other hand, can go well with black shirts especially those camouflage patterns with a heavy mix of the color black, blue and dark green. Board shorts, on another hand, will go well with any skin type as they are usually worn without any shirt on. For the women, camouflage board shorts would go well with any colored top or bikini.
Conclusion
For almost any type of situation, and whoever the person may be, there will always be a good pair of camouflage pants perfect for them straight from various clothing stores at fairly affordable prices. With these shorts, style definitely meets comfort.