Womens Bermuda Shorts – A Great Outfit For All Ages
Womens Bermuda shorts are the most preferred summer or spring wear. Women simply love to pair this with the most stylish tops and tees. But due to their soaring demands, these Bermuda shorts are now available in a variety of color, pattern and fabric. To make them a year round wear various fabrics have been introduced in the casual wear.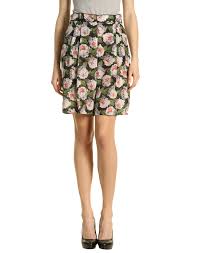 Quick Tips When Buying
Before you make up your mind in which womens Bermuda shorts to pick, there are some things to consider that might have been overlooked so it is worth mentioning them and they are as follows;
Opt for a neutral color when choosing a Bermuda short. This will give to a lot of scope to style it up with almost any color outfit. You can also team it up with a variety of colorful accessories.
Pick up a Bermuda short that has a slimming effect on your body. The neutral color gives you the advantage of dressing it up for the occasion or dressing it down for a casual look.
There are also different styles available depending on the height. Some styles complement tall women whereas some are reserved for the short. Select a Bermuda short that goes well with your body type.
Choose from the baggy style with hem bottom or long and tapered shorts. Womens khaki Bermuda shorts in cotton is what every woman must have. The khaki short in straight fit is ideal for the slim body type.
The Beach Party Looks
Beach party requires a Bermuda short that is very comfortable and is not at all baggy. A well fitted short is really a good option. Pick womens denim Bermuda shorts along with sequin tops or graphic t shirts. Pair with a small ear stud and a chunky neck piece. Add color to the look. Wear white denim short with orange top and danglers. Pair it up with a beige wedge heel and you are good to go. You can also include a beach hat.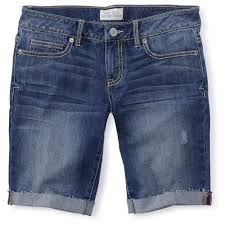 The Morning Look Or A Brunch Look
Wear a white sleeveless top along with a cotton Bermuda short for a Sunday meet up with friends or for a brunch. Complete the look with a small earring and a pendant. If you are not comfortable with heels ballerinas are a pretty good alternative. They can get you anywhere as quick as possible.
The Early Dinner Look
Night time is the best time to put on some sparkling outfit. Wear womens plaid Bermuda shorts with a beige lace top. Accessorize the look with a beige bag or purse and a wedge heel. Create a contrast look with a colorful pendant. You can also go in for green or red Bermuda shorts for the evening hangout or a date. Pair it with stylish wedge heels and a sequin top and cotton scarf.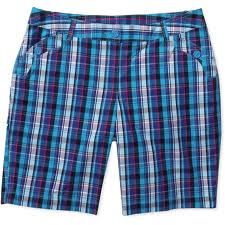 Mix and Match Look And A Little Experimentation
Experiment with you look every time to get something new. Wear camo shorts with a blazer. Play with the various colors. Pick up any color Bermuda shorts and wear with a contrast color blazer. Include a watch or a bracelet and that is all you need. Which means, it's all up to your creativity on how to full take advantage of these Bermuda shorts for women. Pick up a tunic or a dress and wear it with the Bermuda shorts. This is a great new look to try anytime. You can reserve the sun dresses for the evening parties.
Womens Bermuda shorts bring numerous styles with it. But what appeals to women the most is the comfort factor. Younger women to college goers can all agree that this type of shorts have provided them a lot of benefits which is why it is appreciated by one and all.