A Fashionista's Style Guide On Studded Shorts
Studded shorts are not your regular average shorts. It is as if it commands the viewer to look at you. It always gives the impression that you are fun, adventurous and stylish. Pair of shorts designed with studs is very sophisticated and yet, it has a distinct vintage touch that is very appealing. Its glittering shine will also level up an average T-shirt that will make a plain casual look a bit edgier.
Features of Studded Shorts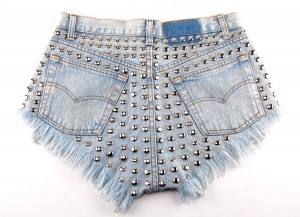 Simply put, these designed shorts are basically feminine shorts. The difference of these shorts against other feminine shorts is that these shorts are known for their metallic square mirror-like studs and fancy stones. The aim is to stand out in a crowd, but the beads are not the only thing that will make these shorts to grab immense attention. The shorts are extra short and usually in a high-waist cut which adds to the wearer's sexiness and appeal that is quite liberating.
And what makes these shorts special is the fact that you can do them quite simply. The stud patterns, after all, are personalized and sewn on the denim fabric shorts or glued with an adhesive. These shiny studs will certainly give a new look and life to your old shorts or jeans cut as shorts. Some styles are made of denim fabrics which are left to ravel or shred on the edges. This can emphasize the carefree character you want to show off with your denim shorts.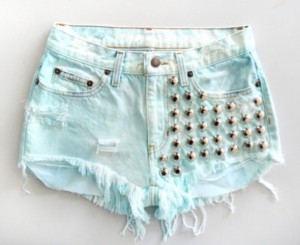 Style Variations of Studded Shorts
Like any other apparel, theses shorts do not come in one style only. Although they have the same characteristic of the stud detail, they still differ from one style to another.
Three-toned studded shorts. The colors of the shorts range from light, medium and dark levels. It gives an interesting variation of colors in one pair of shorts. It can be studded high waisted shorts or low rise shorts. The studs on three-toned shorts are minimal so that the three-layered color detail is emphasized. It can also be a combination of three complementary colors like red, blue and white.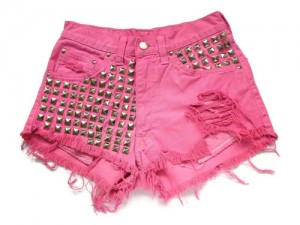 Studded jean shorts. These shorts come in many colors and stud patterns. Red jean shorts with a cross stud pattern looks vintage with the glitzy detail. It is best for casual days. Studded denim shorts with a lot of studs are so stylish. Sometimes, it is ripped on almost every part and the hemline is shredded. This gives a rock-and-roll and rebel character to the shorts. You can do this with your old jeans that you have gotten tired of which is very easy to do. You just have to cut the jeans to the length that you like. Most of these shorts are cut very short for a sexy and carefree attitude. Arrange your studs to the pattern of your preference. You can also use fancy stones for the detail. Metallic square studs are also one of the best materials to use in making these shorts.
How to Care For Studded Shorts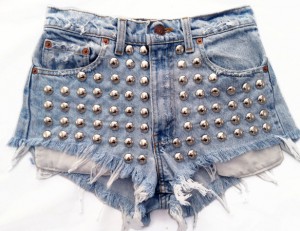 These shorts should not be machine washed just like other types of short such as denim shorts and camo shorts. It will lose the studs with the strong motion of the washing machine, especially if the studs are not attached strongly. It can also rip other clothes when you wash them together in the washing machine. You only have to hand-wash it or wash it solo in the washing machine.
If you notice a loose thread, immediately sew it so that the studs will not fall out from their place. If it is done with fabric glue, always inspect if all of the studs are complete. Unless it is part of the style, it is very unsightly if the pattern has one stud missing.
Stud designed shorts are very fashionable. It has a carefree rock-and-roll vibe attached to it. You can choose any cut that will suit your preference. These shorts are the best if you want to give a twist on your average denim shorts.