Bright colored shorts are really attractive and they need to be matched with the right colors so that they can appear more appealing. Well, not many people own a pair since they greatly attract attention. In this case it takes confidence to put them on.
When to Wear Shorts
The shorts could be worn to different occasions however; they are certainly not suitable when attending formal dinners. For instance, it would be inappropriate to wear them to the office.  There are different types of shorts and each is suitable for a particular occasion and place. For outdoors and casual look, camo shorts and denim shorts are appropriate. This is why it is essential to know when and where to wear them. Some of the appropriate places to have these shorts on include: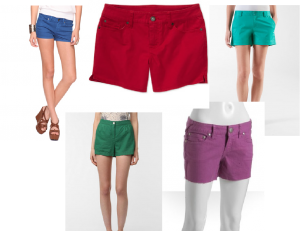 During Summer
When you are going to the beach
During spring
When you are having a pool party
A lot of people who love wearing shorts with bright colors do not have any idea on how to wear them or what to wear them with. Always remember that if you are planning on keeping your shorts for more than one particular season, then you should go for classic colors. Explained below are some ideas of how you could wear these shorts and look perfect in them.
Fashion Tips on How to Wear Bright Colored Shorts
Wear the shorts with plain bright colors.
You can pair your shorts with a different color bright top. For example, a pair of orange denim shorts could blend in well with a yellow top. You could add to the touch by wearing accessories such as a necklace and strappy sandals. If you want, you could also have a bright colored bag. This look is simple, but perfectly fine.
Wear the shorts with a printed top
You can as well wear your pair of bright colored shorts with a lovely printed top. It does not matter whether it has got flowers or stripes or any other print, it will definitely blend in just fine. You can also pair you outfit with cute earrings and sandals.
Wear the shorts with a chambray top
You can also pair your shorts with bright colors with a classic chambray shirt, which is more common in a student's wardrobe. Chambray is usually suitable for warm weather because its material is made with very bright colors. You could also have a chambray big belt and metallic sandals to have a trendy look.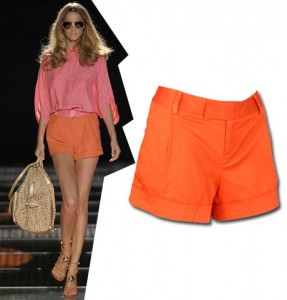 Examples of Top Brands
Zumiez
Volcom
Free world
Hurley
Matchstick
If you are one of the people who like wearing the bright colored shorts like orange shorts, ensure that you pair it wisely to avoid situations where you look awkward.  Use the fashion tips mentioned above to make sure you wear an appropriate top with these shorts. You can look out for the different types of shorts in different shops and compare their prices.  You can look for these shorts from stores that sell sports clothing and you can even look from online stores.  You can also get branded ones at discounted prices if you want top quality shorts from online stores during winter season because they are not in demand.  Ensure that you as well choose the shorts from the best brands.