Simple Tips to Look Cool in Denim High Waist Shorts
Everyone loves denim. That's why there are denim shoes, denim jackets, denim pants and now denim high waisted shorts. They may not be that popular at the moment but as sure as night follows day, they will be extremely popular in the coming years. Women love them because they are easy to clean. They also look good in them as they allow them to boast of their legs and feel free in warm summer days. What many do not know however is the fact that there are secrets one can use to look extremely gorgeous in denim high waisted shorts.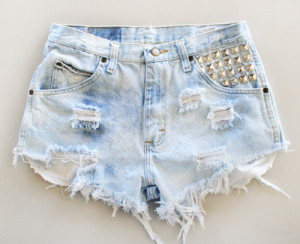 Choose Colorful Belts
This is one thing most ladies forget each time they wear their denim high waisted shorts. Sure, you can do without belts but it doesn't hurt to add some flair to you outfit. Keep in mind that the belt you choose will depend on the color of your denim high waist short. Black and white for instance can go well with all the other colors, so be free to experiment with all the colors of the rainbow if you have white high waisted denim shorts. For a more refined look, try any of the following colors:
Denim Jackets – Seriously?
It sounds funny but it isn't. It is in fact, trendy and fashion magazines are there to prove it. You only have to be careful and choose trendy denim jackets for ladies to match your high waist shorts. You can, for instance, choose studded and patched denim jackets or go even go for camouflage denim jackets to match your trendy white lace high waisted shorts.
Scarves – And Why Not!
This is something not many consider but it is essential to a cool white or black denim high waisted shorts outfit. The best way to go about it is to make sure that your scarf and shorts match. If for one reason of the other you do not like scarves, then a ribbon, hair band or bandana will work just fine. Your head accessories are one of the key to have a significant impact when you wear this type of shorts.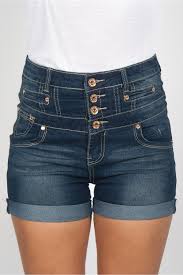 Choosing the Jewelry
Once again it is all about color. Fortunately, you do not need to invest so much on fancy jewelry. There are so many affordable earrings that can blend well with your camo shorts. Just make sure that they either match or blend well. For a better look, try watches that have colorful straps. You can also try colorful bangles and wrist bands. Make sure the size that you choose is proportion with your body type so as not to divide the attention from your shorts if you are trying to highlight them.
Tops
– This Is The Make or Break Situation
You may not know it but high waisted shorts can also be worn to formal events. All you have to do is to ensure that you wear your denim high waisted shorts with a button up blouse. Then ensure that the shorts are not too short. At some point, the shorts will serve as the backup while your tops are the main event of the evening.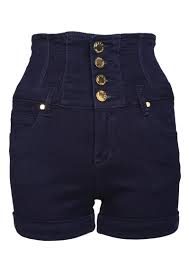 Don't go for an ordinary look with your high waist shorts. Go for that gorgeous look that will leave men ogling for more. Then remember that the kind of shoes you wear must complement your shorts. You can wear heels, wedges, sandals or even denim rubber shoes. what matters at the end of the day is that billion dollar look in your denim high waist shorts.