The Versatility of Camo Shorts
The camouflage shorts that are usually known as camo shorts have taken over the fashion world for quite some time. These military types of outfits are worn by men, women as well as kids. They make for comfortable apparels for outdoor activities and casual wear also.
Features Of Camo Shorts
The unique feature of this type of clothing is that the colors blend with nature. As the name suggests, they were originally designed for hunters and soldiers to camouflage them from beasts and enemies. The materials completely blend with outdoor environment as the various earth tones like brown, tan shades and different shades of green are used in these shorts. The prints are in tune to the desert or jungle patterns.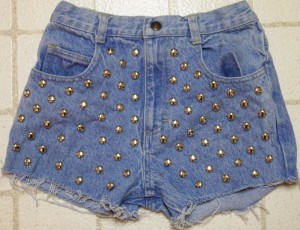 The sizes are usually larger than the regular shorts and have big pockets all over the legs and the fabrics used to make these shorts are mostly cotton-knit fabrics and polyester.
Various Styles
These shorts go well with jackets and shirts.
The greatest advantages of having a few of these shorts in the wardrobe are that they can be worn for pool or beach parties as lounge wear.
Also as functional apparels like hunting, camping or trekking trips. They have a rugged appearance that makes them so stylish and trendy.
Modern camo shorts are available in much more shades apart from the usual ones. Since they are worn as fashion garments the colors too are have taken a different hue. Pink, gray, blue and shades of purple and orange have given an awesome look to these shorts. Girls are using these outfits to flaunt their style and shape by pairing them with sleeveless tops, fitted t-shirts along with jackets to compliment these shorts. Moreover they are very comfortable to wear and suits nearly every occasion. One has to just select the appropriate tops or shirts that will look the best with these shorts.
Shopping Tips
Since there is an array of camo shorts spread out at the outlets, it often becomes difficult to make the right choice. However here are some tips that will help in buying the best ones.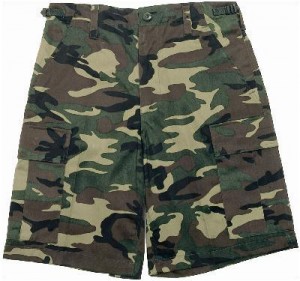 These shorts are available in various designs and shades nowadays. So it is wise to look out for that design which is appropriate for the event.
If it has to be used as a casual wear for going out with friends, then the medium weight outfits in neutral colors are just the right types.
For outdoor adventure trips and hunting expeditions, the original designs are perfect. Since the colors of these shorts match with the natural surroundings of green and earth colors wild animals cannot spot the hunters. Shirts in earthy colors are appropriate for such occasions.
However, for a cool dayout, the comfortable shorts of light colors teamed up with cool t-shirts give a sophisticated and trendy look.
For that most fashionable look the studded shorts are the best options. They are extremely comfortable as they are worn loose. They are loved by the trendy people as they can be worn out with patterned or plain tops with any kinds of sleeves and for the footwear, any style goes well with them like boots, sneakers or flat sandals. These shorts are a great addition to a stylish wardrobe.